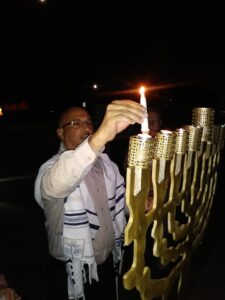 Chanukah
Feast of Dedication
Shabbat,
December 9
At the Synagogue
10:45 AM – Messianic Life Class
11:45 AM – Shabbat Service
111
Chanukah begins on December 8th through the 15th, 2023. As with all Jewish holidays, the holiday of Chanukah begins the evening before with the lighting of the first candle on Thursday evening, December 7th. The 8th candle will be lighted on Thursday evening after sundown, Thursday, December 14th.
All are welcome to attend the Shabbat service on December 9th.

Any special community candle lightings at the synagogue are to be scheduled.
Please email to info@emekelohim.org to let us know of your interest in participating.