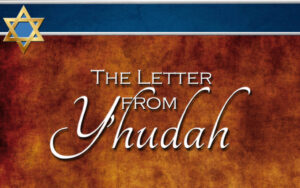 From: Y'hudah, a slave of Yeshua the Messiah and a brother of Ya`akov To: Those who have been called, who are loved by G-d the Father and kept for Yeshua the Messiah: May mercy, love and shalom be yours in full measure.

Y'hudah (Jude) :1-2 CJB
The Book of Jude (Y'hudah) is a worthwhile study that while written to the early Messianic believer's, continues to exhort us today. Let us live as taught by the earliest Messianic Jewish teachers and rabbis. Let us not be led astray. Let us remain true to the calling. Remember Y'hudah's urgent appeal to "build yourselves up in your most holy faith".
All video teaching messages link directly to Emek Elohim's YouTube channel. Be sure to "subscribe" to the channel when you are viewing the messages.
The Book of Jude (Judah) Part 1
The Book of Jude (Judah) Part 2
The Book of Jude (Judah) Part 3 (N/A)
The Book of Jude (Judah) Part 4
The Book of Jude (Judah) Part 5